CD Reviews
Martin England, Foster's Showcase (Dover NH), York Times (York, ME) - December 13, 2003

Will Reisman, Face Magazine, Bar Harbor, Maine - December, 2003

Jam Magazine Nominated: Best New Artist - 2003

Jam Magazine review: 8.5 out of 10 - Feb, 2004

Mark Philips Americana UK October. 2003

Sam Pfeifle, Portland Phoenix Portland, Maine - 09/27/03

Jamie Perkins, Spotlight, Portsmouth, NH - 09/18/2003

Stagger Lee, Camden Maine - 08/15/2003
Andy Olmsted, "Find Your Way Home" (Fat Cuz Records)
Style: Roots rock, mountain pop Suggested audience: Full moon harvesters
Some artists hide behind their influences, ashamed to admit the source of their inspiration for fear of comparison. Former Big Chicken mate Andy Olmsted steps right into it, revealing an infatuation for Neil Young that resounds through his debut record, pulling all the best parts (piano, fuzz guitar, wavering vocals) to yield a bountiful harvest. "Find your Way Home" features many guest appearances, including High Range's Rob Kneeland (mandolin), Ellen Carson (fiddle) and Todd Jones (banjo), as well as old Chicken bandmate David Marshall (Acoustic guitar, vocals).

Although Young comparisons are inevitable (the Jayhawks pull in a close second), Olmsted is a true torch-bearer for roots music who should be lauded for producing a record that will spin in CD players for weeks. Track 2 ("Rain") features a memorable vocal exchange between Olmsted and Elizabeth Stephen. "Mr. Brown" displays the same uncomplicated lyrical stylings that made Young famous (Mister Brown/works in town/some folks saying that he is getting old). The music is simple as well (simple as the joy taken from riding in the back of a pickup), but is melodically urbane, and the choice of varied instrumentation is well fit. Olmsted's "Find Your Way Home" is available online at www.fatcuz.com.
FACE MAGAZINE: Maine Arts and Entertainment Menu December 2003

Find Your Way Home Andy Olmsted

With all the current tension abounding in our society today, it's always nice to relax and put on something nice to listen to on the stereo. Music that's not too engaging can be the best remedy for a headache, a short, sweet vacation from your troubles. Andy Olmsted's new album, Find Your Way Home, certainly meets these requirements, as the overall ambivalence of the album seems to ring all the way through.

The production of the album is excellent, showcasing above-average musicians operating an array of instruments that give the songs a rich, textured feel. Olmsted's music has large doses of folky harmony with touches of bluegrass, rock, and country added in; not a shocking mix of musical genres, but it is a sound more complex than much of what music has to offer today. Olmsted is much like a modern day Neil Young, with a little less cultural significance.

"1926," the opener to the album, is a quality track, sounding like it was extracted directly from Young's masterpiece After The Gold Rush. The slow, harmonic rhythm of the track hearkens the listener back to the time of the song. "Brother" has the same type of feel to it as "1926." Somber pianos usher you into the tune, complementing Olmsted's wispy vocals, creating an excellent combination of ups and downs. "Two for the Road," is a fine example of a modern day bluegrass cut, as Todd Jones, Ellen Carlson, and Rob Kneeland team up with Olmsted to throw the listener a vast assortment of banjos, mandolins, fiddles, etc.

The music does tend to drag during stretches of the album. "Rain" ends under a barrage of choruses, leaving you wondering when it will end, and "Mr. Brown" seems to go on much too long. It's nice for the first three minutes, but after that you're looking to skip to the next track. "Bottle Rocket" just doesn't really ever gel as a song, making the listening uneven and rigid.

Find Your Way Home is not a bad album by any stretch of the imagination, but it can't really considered to be overwhelmingly good either. Listening to it is like lounging around lazily on a Sunday with your friends. It's nice, but still, you'd rather be hanging out with your girlfriend. Will Reisman

top
Jam Magazine (NH) nominated for New Artist of the Year:
They complimented several friends (High Range, Dave Marshall, John Chao, Big Chicken) that contributed, though they should have mentioned all the terrific contributors IMHO.
Jam Magazine: 8.5 out of 10 by William A. Huffman<![if !vml]>

<![endif]>
Andy Olmsted, a NH seacoast musician, has been around the scene for a while with many accomplices. most of which are on his debut solo CD Find Your Way Home. Combining a soft folk style with bluegrass, Olmsted has crafted some wonderful songs, but unfortunately they come to life more because of his supporting cast.
The song "Brother" is easily the most accessible with strong lyrical meaning, catchy melody and an emotionally-charged atmosphere. John Chao provides super piano playing on this cut, which elevates the song from a lilting ballad to show-stealer, though still tender and emotive. David Marshall (of Big Chicken notoriety) supplies a strong electric guitar lead and harmony vocals which really fattens the tune
Transition to Olmsted&s short comings - while his voice is nice, it is not very commanding. He certainly has the soft, smooth texture down, but when tunes need a little more muster, he either comes short or relies on harmonies to beef it up.
Over the ten songs, there isn&t a bad one and the musicianship is wonderful and tight. High Range (the whole band) is much of the backup group and the obvious impetus toward bluegrass tendencies.

Andy Olmsted Find Your Way Home (Fat Cuz Records 2003) Available: Now

As the cover of "Find Your Way Home" features the Longfellow Bridge across the Charles River almost eclipsed by a snowstorm, and as I've traipsed over it and up Mass Ave in similar conditions, I immediately warmed to Andy Olmsted, as I figure we'd already done some bonding. Add that to a gentle folk/country sound that is somewhere between The Handsome Family and the acoustic side of Neil Young, and you really have something going here. It's not wall-to-wall classic numbers, but it's very likeable, and it walks a line which shows an appreciation nonetheless of classic singer-songwriter-isms as well as a nod to the happily downbeat. If it's possible to imagine, vocally Olmsted sounds like the bastard love child of the aforementioned Canadian and Tom Petty, and it's their collective slight sneer that gives an edge to proceedings. Yet pop outings rear their heads too- "The Hustle" has West Coast harmonies and jazzy guitar, as well as a post-rock arrangement which leaves you frowning but engaged. "Brother" in other hands would be too sweet, a tale of asking and giving help to one's fellow (wo)man at that moment when they really need a hand, because life and living it have temporarily become a little bit too much; it's the melancholic subtext which make you believe the request and you would gladly assent to it- we've all been in this place, and it's a touching moment of recognition which brings us a little bit closer to our own humanity. Pretentious and sentimental? Me: Yes. Olmsted- just a spot on acoustic artist with an ear for the things that concern us all and a fine way of expressing them. A very good record and one which takes you places you may not have been for a while. MP www.americana-uk.com
"...of note is the release this week of Andy Olmsted's, Find Your Way Home (September 19, at the Press Room). It's chock full of Seacoast talent, with members of High Range and Big Chicken, and featuring the recording and guitar talents of Dave Marshall. It's a tad hokey, maybe, but the musicianship is top-notch and it's a good pickup for fans of bluegrass and folk." SAM PFEIFLE, Portland Phoenix
top

Portsmouth Herald Spotlight, Portsmouth, NH Thursday, September 18, 2003
Olmsted 'finds his way' back to the studio with old friends
By Jamie Perkins
spotlight@seacoastonline.com
Former Big Chicken alum Andy Olmsted has called upon members of his old band, among a slew of others, to record his debut album "Find Your Way Home." An easygoing mix of acoustic folk and roots rock, Olmsted's music, and in particularly his softly wavering voice, is reminiscent of "Harvest Moon" era Neil Young. Or at the very least, Neil Young being less ethereal and never getting angry at The Man.
Olmsted is a fine songwriter, and his music is informed by the pain of loss, particularly a moving ode to his mother, "Rain." While certain other songs are centered on a quaint story (such as the pre-Depression lament, "1926"), and some are more of a cautionary tale (the searching "Brother"), there is a continuing theme on this album of catastrophe, movement and eventual return, like a kind of Southern odyssey. Travel is a recurring context, with song titles such as "Two For the Road," "Moving Along" and "Coming Off the Mountain," which is Olmsted's most Young-inspired, understated song.
Olmsted's mix of existential subject matter and laid-back tension gives the music a mellow, haunting feel, enough so that the sparse electric guitar solos feel almost entirely out of place. But the full instrumentation Olmsted and co-producer David Marshall have chosen to complement the songs, including pedal steel, piano, banjo and the noted inclusion of angelic singer Elizabeth Stephen on harmonies, gives the entire album a full, complete sound. "Find Your Way Home" is the sound of Andy Olmsted doing just that, coming back home over back roads like a countrified Odysseus.
Andy Olmsted will hold a CD release party for "Find Your Way Home" on Friday, Sept. 19 at the Press Room. Big Chicken will perform as well. For information, call (603) 431-5186 or visit www.olmsted.com.
Jamie Perkins is a free-lance writer and the drummer for the bands STARCH, Stone Soup, and Museum of Science. He can be reached at jamieperkins@hotmail.com.
FIND YOUR WAY HOME - Andy Olmsted
by Stagger Lee, Camden Maine 8/15/2003
Find Your Way Home is Andy Olmsted's first full-length CD release, released this year on Fat Cuz Records. Anyone who has followed Andy's music career so far has heard a number of these songs develop and grow over the years, and knows that the group of musicians he assembled for this project constitutes an extended family of far-ranging talent comfortable on stage or in the studio.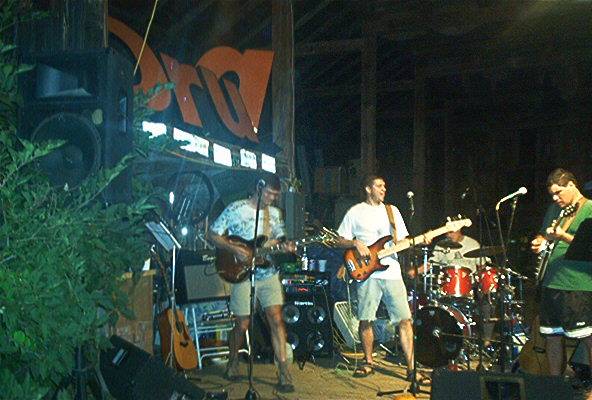 Consequently, this disc feels comfortable, relaxed. These people know each other, they know how to play together. Though the time and great care taken with each track is apparent, the end result could be a (well-rehearsed) barn jam on a summer day, as the inside photo leads me to believe. I mean that as a compliment, of course -- the human and organic elements of this music do transcend the processes and processing of the studio, and that's the real trick, or at least one of the real tricks, in modern recording.
The disc opens with 1926, a slow rambler shuffled with brushes and spiced with a banjo break. While this cut exemplifies the tasteful arranging that prevails throughout the disc, it does also highlight its one weakness. Andy's vocals are adequate here, but not as strong as the material itself. He's got Neil Young's casual delivery and plaintive beckoning, but there is usually something a little fierce hiding just behind even Neil's softest word, and Andy could use a little of that intensity here.
Rain and Brother continue in a similar vein, and benefit from some nice harmonies and soft piano fills. The whole disc rings with superb musicianship, in fact. I can't emphasize that enough. Pat McNeil's drumming is exemplary; on Two for the Road, for example, his brushwork is smooth and consistently right on. Todd Jones' banjo and Ellen Carlson's fiddle provide perfect accents here and there, while sweet organ underpinning and Dave Marshall's electric guitar never allow us to fall too far into folk.
The Hustle is not a cover of that old disco chestnut. No, it carries its own nut status. Any song that ends with a chorus of "woops there goes another rubber tree plant" is alright with this reviewer. This is one of those songs that had to be, as silly as it may be. We've all been "squashed...like a toad," dammit, and we need this song. We need a lot of these songs, actually. I only alluded to the strength of the material above, so let me be explicit: This is really good material. Musically and lyrically this disc is uniformly strong, with only occasional and intentional lyric diversions into the humorous. Still, if one is inclined to pick favorites, this reviewer would have to go with Brother. What a great track.
There's almost no way I can work a complimentary mention of every musician playing on this CD, there are so many. Because I'm listening to Moving Along right now, though, I have to say Al Pratt's conga work adds a breathing heartbeat to the sound that lifts this song and moves it along to a finish that comes all too soon. At 41:17, this is more of an old-school style release. No 74 minutes and hidden tracks here, no enhanced videos of Andy swimming with dolphins. In fact, this would make a great record. I mean vinyl. I'd file it right next to Neil Young...and Big Chicken.
One last thing: the photograph on the back showing Andy looking so serious? Don't believe it for a minute. Andy Olmsted knows how to party.